BeWary: another phone scam
08-20-2015, 11:06 AM,
BeWary: another phone scam
Recently i told you about phone scams that happened to two different friends in SMA and GTO.
Both were male, retirees and received the calls by cell phones. In both cases the caller claimed
to be a kinsman.
Another scam occurred yesterday to another person, "Bob", of the same description as above except
that the call came to his landline, TelMex.
The caller claimed to be a relative and that he would be visiting GTO today. Could Bob meet him
at the airport? Bob--fully aware of the Scammer--said yes and that he would come to the airport
in a particular sports car (known to be expensive). Scammer then asks if Bob needs anything
from the U.S. and if so then the Scammer would need money wired to him in order to make the
purchases. Of course, Bob said he needed nothing from the U.S., thank you very much.
Bob, being internet-savy, promptly googled the Scammer phone number and found it to be a
well-known problem originating in Aurora, Illinois, USA. Bob called the Aurora police department but
was informed that they had no jurisdiction and could do nothing. The website:
http://www.800notes.com
So, as of this morning, the Scammer is scheduled to arrive at the airport today--fat chance! If this scam
transpires like the aforementioned (in the first paragraph), Bob will soon receive a call from the Scammer
saying that he has had an accident and needs an emergency loan from Bob so that he can pay whatever
fines or other charges and then he will be able to continue on to GTO.
08-20-2015, 12:14 PM,
mr bill
Supporting Member [3]


Posts: 521
Joined: Feb 2010
RE: BeWary: another phone scam
I think most of us are savvy enough to spot something like this and the others probably aren't reading the message. WebScams abound. They also present fun opportunities to scam the scammer. Best is to appear to accept the deal and use WU to send some cash... well, not really just send the WU MCTN receipt you can get [and photoshop] off Google images - something like this: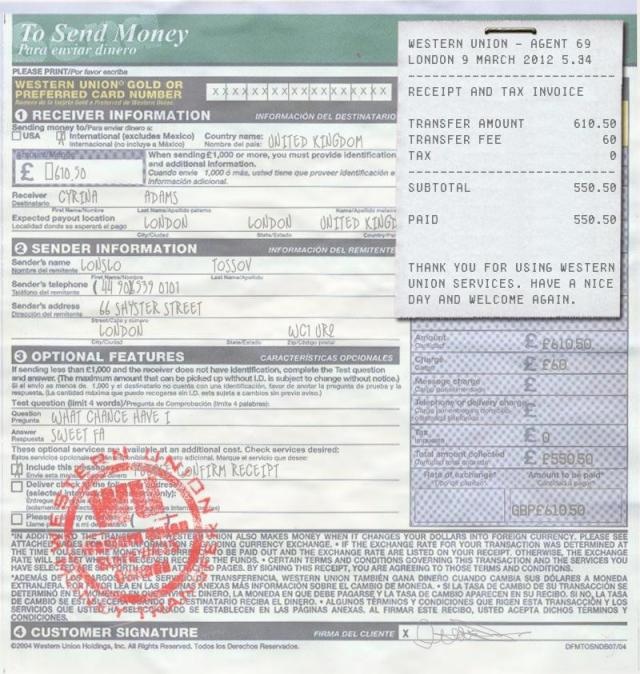 I once kept a jerk in Nigeria busy for a month getting embarrassed each time he tried to redeem a phony MTCN.
Lots of fun ideas can be had here at
37 ways to mess up a PayPal scam
Enjoy!
08-21-2015, 08:34 AM,
colleen
Member


Posts: 190
Joined: Aug 2010
RE: BeWary: another phone scam
Mr. Bill, That's GREAT! And congrats to Bob for his responses.
Possibly Related Threads...
Thread
Author
Replies
Views
Last Post
I phone repair
Mikel1
0
127
04-21-2017, 08:08 AM
Last Post: Mikel1
where can i unlock my phone?
dermotwa
2
269
04-05-2017, 09:59 AM
Last Post: roberb7
bring back a cell phone from the u.s.?
Doyle Phillips
0
235
12-09-2016, 03:38 PM
Last Post: Doyle Phillips
where can i unlock a phone?
dermotwa
2
516
11-08-2016, 04:17 PM
Last Post: Sue100
Phone directory
Mikel1
1
464
03-22-2016, 10:27 AM
Last Post: The Duck
seeking old cell phone
louisarogers
0
472
11-29-2015, 08:25 AM
Last Post: louisarogers
Best cell phone?
louisarogers
1
644
11-13-2015, 11:10 AM
Last Post: sparksmex
Enaid's phone number
colleen
0
634
06-19-2015, 11:21 AM
Last Post: colleen
Calling all (phone) callers in México
Doyle Phillips
0
753
01-01-2015, 07:44 PM
Last Post: Doyle Phillips
Arq. Francisco Moran's phone numbers?
louisarogers
0
831
07-04-2014, 05:37 PM
Last Post: louisarogers